DOCK TALK: ACCESSORIZE YOUR DOCK
Regardless of if you own a Wave Armor dock, a competitor's floating dock, or a standard fixed dock – we have accessories available to help you accessorize and increase the functionality of your dock.
Consumers who purchase accessories from Wave Armor rate the following products as "must-haves."
WAVE DOCK ATTACHMENT KITS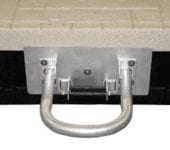 The Wave Armor Attachment Accessories are built to fit our exclusive Wave Dock System. . The Wave Dock Attachment Kit is one of your main ingredients when looking to attach your Wave Dock to a fixed pylon in the water. If your Wave Dock is located on a rough body of water, we suggest using the Pylon Attachment Kit for added functionality. The Pylon Attachment Kit allows your Wave Dock to stay in a fixed position, while allowing the dock to fluctuate with varying water levels. It is made with heavy duty metal that is complimented seating in our H-Beam Channel for incredible strength. If you happen to be away from your home or cabin during a storm or periods of rough water – you can have confidence knowing your dock will stay put thanks to our Wave Dock Pylon Attachment Kit.
BUMPER KITS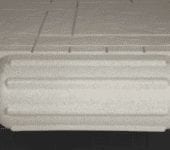 Protect your watercraft, and your Wave Dock System with our Polyethylene Bumpers. Wave Armor Vertical and Horizontal bumpers secure directly into the Wave Dock H-Beam Channels and are constructed of polyethylene for an attractive and protective barrier between your dock system and watercraft. We also offer numerous products for standard fixed docks, and fixed structures. If you don't yet own a Wave Dock System, you will want to check out our Dock Bumper Wheels, Corner Bumpers, Horizontal Bumpers and Vertical Bumpers which are built to integrate with existing dock structures. Say goodbye to dock rash, peeling decals and paint scratches, while adding to the functionality of your dock with Wave Armor Bumper Kits!
BENCHES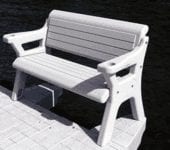 Wave Armor's "Marion-Style" polyethylene Dock Bench is designed with both traditional and contemporary styling, embodying both strength and elegance. Rotational molded granite compounded polyethylene construction featuring molded-in beverage holders. Wave Armor polyethylene Dock Benches make a welcomed addition to any dock, patio, or lawn. Dock Benches can also easily connect to our Wave Dock Modular Floating Dock System utilizing our Dock Bench Attachment System. Our Wave Armor Benches come in a variety of sizes to meet your needs. Sizes include a 4 Foot Bench, 5 Foot Bench, and our largest size available, the 6 Foot Bench.
DOCK WHEELS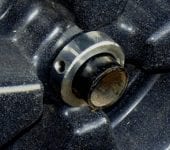 Wave Armor Dock Wheels are ideal for roll-in docks, boat lifts, and unlimited other uses. These Polyethylene Dock Wheels never go flat, wear out, or rust on the shaft! Wave Armor is the original manufacturer of the "Maintenance-Free" Poly Dock Wheel. Our Dock Wheels are rotational molded using a durable & virtually indestructible polyethylene material, producing a one-piece seamless tire. The heavy-duty construction and wide footprint design allow these dock wheels to roll over the roughest terrain with ease. We offer two different types of Dock Wheels, a "patched" and "non-patched." A "patched dock wheel" is airtight (non-drilled) providing extra flotation, and are recommended for heavier-weight docks. A "non-patched dock wheel" feature pre-drilled holes allowing the wheel to obtain water, which provides for additional stability and height. We recommend non-patched dock wheels for lighter-weight docks. We also offer a Dock Wheel Locking Collar to secure your dock wheels to a 1 1/2″ axle or pipe.
LOCKABLE DOCK BOX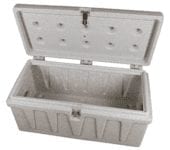 Wave Armor's Lockable Dock Box is the perfect solution for waterfront storage by attaching to your dock system or placing on a patio or other outdoor area. Our Poly Dock Box is constructed of 100% Roto-Molded, weatherproof and UV resistant polyethylene. The Wave Armor Dock Box is also lockable, providing you piece of mind that your valuable items are secure. The Lockable Dock Box provides ample storage space, the dimensions of this product are: 31.25″ Length, 13.75″ Deep, and 15″ Tall. A perfect addition to your dock that allows you to keep towels, life vests, sunscreen, beach toys, fishing tackle, extra dock lines and more, where you need them most. On the water.
---
---