WAVE ARMOR SETS THE STANDARD FOR FLOATING DOCKS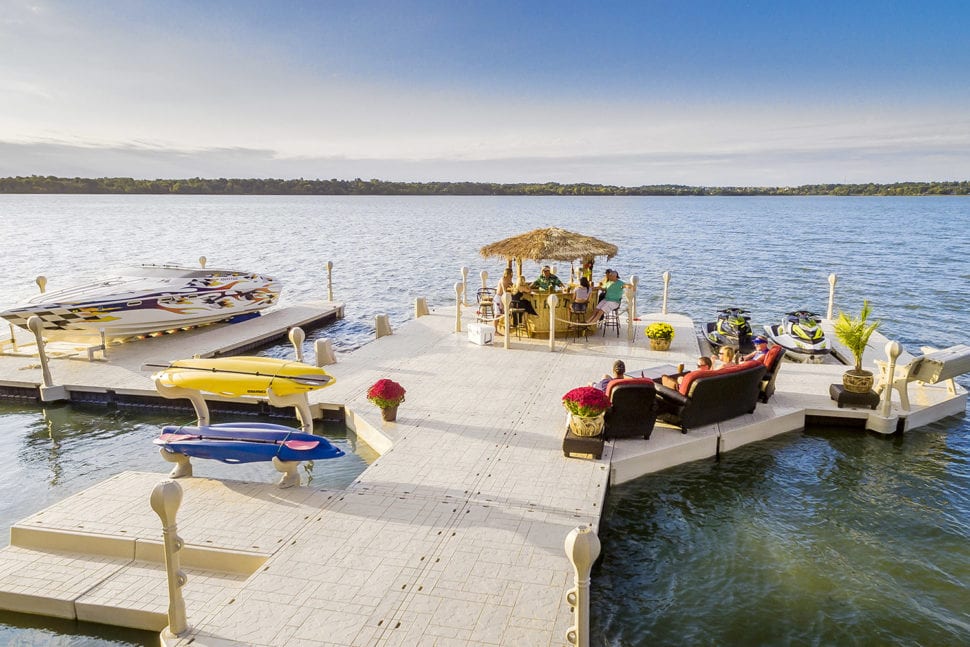 LUXURY WATERFRONT LIVING AT ITS FINEST
What connects your palace and your passion? For many living the waterfront life, the answer has long been a short walk down a drab dock that doesn't reflect themselves or their interests. Welcome another way with Wave Armor, an elegant link between your home on the water and your water hobbies.
Wave Armor floating docks, ports and accessories transcend durability and dependability with a stylish design that sets a new standard for lakeside living. While most floating-dock systems are merely functional and utilitarian, all Wave Armor docks and ports feature an attractive flagstone paver-style textured finish. Making life on the water easier has never looked so good!
A Wave Armor dock is more than just a place to park your boat – it's an extension of your lifestyle. Imagine, instead of unsightly aluminum poles, rusty steel cables and splinter-ridden, rotting wood, being greeted at the water's edge with what's essentially a patio on the lake, where you can lounge comfortably and entertain friends in style – in addition to launching your watercrafts.
"It's an outside living experience on the water," says Wave Armor owner and inventor Rick Johanneck. "People who live on the water have worked hard to get there. Where they relax and play should be as enjoyable a space as possible. So we wanted to create the nicest-looking docks on the market – period. And we've done that. When you compare our docks to others on the market, there's really no comparison. While other docks basically do the same thing, Wave Armor docks portray the ultimate in durability and distinctive design."
The brand of choice for waterfront home owners and marinas alike, Wave Armor proudly offers products that are not only supremely functional but also pleasingly fashionable, designed to enhance the precious time you spend on or around the water.
Both rugged and refined, Wave Armor's floating dock sections feature a rigid, closed-cell-foam-filled interior and bottom-suctioning pockets that keep your dock where it is supposed to be – flat on the water. Constructed of Roto-Molded durable polyethylene with built-in UV protection, your Wave Armor dock will last for years to come, without fading in the sun.
All of Wave Armor's modular docks utilize a patented, hassle-free H-Beam Channel system to secure connections underneath their decks for a more dynamic and clean-flowing topside surface. This system allows for easy expansion with handsome accessories and Wave Port personal-watercraft & boat ports, benches, kayak racks, dock ramps, post covers and solar dock lights and more. Molded-in fastener attachments, spaced around perimeter, add tie-down cleats where you need them.
"Each Wave Armor accessory will incorporate beautifully into the design of your custom dock layout, giving the overall dock system a fully integrated finished look and feel," Johanneck says.
---
---