DURABLE AND DISTINCTIVE FLOATING DOCKS

RotoMolding and Foam-Filled Floats make Wave Armor Floating Docks Stronger, more Stable
As durable as they are distinctive, Wave Armor® floating docks are built with RotoMolded polyethylene and foam-filled floats, providing marina and waterfront homeowners the ultimate in style, strength, and stability.
While most floating docks are merely functional, Wave Armor docks feature attractive flagstone paver-style textured finishes. But Wave Armor docks are as rugged as they are refined.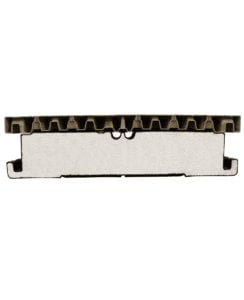 Each of Wave Armor's modular dock sections comprises two separately RotoMolded components – the stylish top-side deck and a float below filled with rigid, closed-cell foam. Lesser dock systems take their chances with air-filled floats.
"Other docks, if their floats get punctured, they fill with water, and you're sunk," Rick Johanneck, owner/inventor of the Wave Armor floating-dock system explains. "With Wave Armor, it's no big deal – the float can still do its job 100 percent as good as it did before."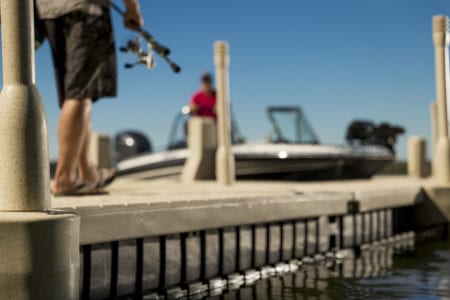 RotoMolding – unlike inferior plastic processes like thermoforming and blow-molding – produces a much more durable dock with seamless parts and uniform wall thickness.  "Our process distributes more material in the corners to absorb shocks and stresses where they occur most," Johanneck explains. "Since the material isn't stressed during production – like it is in thermoforming or pressure-forming – the finished product is stronger and more reliable."
In all but the harshest of northern waterfront environments, a Wave Armor dock is durable enough to be left in year-round. "One of the biggest bonuses is leaving it in over the winter," Johanneck says. "In most situations, you don't have to take it out."
After ice-up, simply remove your Wave Armor dock's mooring pipes and tie your entire assembly to a stout tree or structure with a sturdy rope. Come spring, simply re-install your poles.
"Some homeowners spend $1,200 to $1,800 in the spring putting their dock in, and then the same taking it out in the fall," Johanneck says. "Within a few seasons, Wave Armor really pays for itself."
The brand of choice for waterfront homeowners and marinas alike, Wave Armor offers a wide range of modular dock sections that can be assembled into an infinite number of layouts and configurations to custom-fit any environment. Dock sections connect securely via a patented, hassle-free H-Beam system that allows for easy expansion with handsome accessories, including Wave Port personal-watercraft ports, boat bumpers, dock ramps, benches and more. Built-in UV protection ensures Wave Armor products will last for years without fading in the sun.
---
---