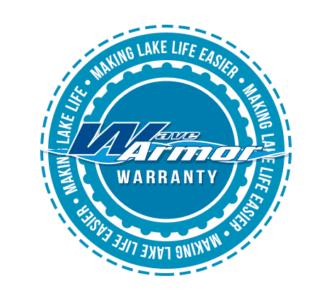 WARRANTY POLICY
Wave Armor stands behind its craftsmanship and quality products. Wave Armor warrants to any original owner that they will repair or replace at Wave Armor's discretion, any product found to be defective due to a manufacturing defect within the specific product's warranty period.* Manufacturer defects apply to excessive deformation of surface area, cracks, breaks, leakage, and ultraviolet deterioration.
The manufacturer's warranty does not apply to any Wave Armor products subjected to an accident, maladjustment, improper installation, misapplication, misuse, modification, neglect, repair, extreme natural elements, vandalism, animals or aquatic life, including but not limited to improper maintenance, or use of unauthorized parts or attachments.Warranty replacement or repairs will be made without charge by Wave Armor or an authorized dealer. Transportation/shipping charges to and from Wave Armor or an authorized dealer are the responsibility of the owner. All other obligations or liabilities, including loss of use, inconvenience, commercial loss and consequential damages are hereby excluded.
Manufacturer warranty period begins on the date of purchase (as evidenced by a product receipt) from an authorized Wave Armor dealer. Warranties apply only to the original owner of the products and are not transferable to anyone who later purchases products from Original Owner, or to any subsequent purchaser. Warranty is pro-rated. Only the balance of the original warranty period shall apply to repaired and replacement products. Wave Armor reserves the right to change product models, features, and designs without incurring any obligations to incorporate such changes into already completed products, or those in the hands of Dealers or Consumers. Wave Armor products repaired or replaced under this warranty may or may not incorporate these changes.
Buyer, by acceptance and use of these warranties, waives any rights it would otherwise have to claim or assert that these warranties fail of their essential purposes. Buyer agrees that venue for any court action to enforce these warranties shall be in Wright County in the State of Minnesota.THE FOREGOING LIMITED WARRANTY IS THE SOLE AND EXCLUSIVE WARRANTY FOR SELLER'S PRODUCTS, AND IS IN LIEU OF ALL OTHER WARRANTIES, EXPRESS OR IMPLIED, IN LAW OR IN FACT. SELLER SPECIFICALLY DISCLAIMS ALL OTHER WARRANTIES, EXPRESS OR IMPLIED, INCLUDING, WITHOUT LIMITATION, ALL IMPLIED WARRANTIES OF MERCHANTABILITY AND FITNESS FOR A PARTICULAR USE OR PURPOSE, AND ANY IMPLIED WARRANTIES ARISING OUT OF COURSE OF DEALING OR PERFORMANCE OR TRADE USAGE. SELLER SHALL NOT BE LIABLE FOR ANY INCIDENTAL, CONSEQUENTIAL, EXEMPLARY, SPECIAL, OR PUNITIVE DAMAGES, OR ANY LOSS OF REVENUE, PROFIT OR USE, ARISING OUT OF A BREACH OF THIS WARRANTY OR IN CONNECTION WITH THE SALE, INSTALLATION, MAINTENANCE, USE, OPERATION OR REPAIR OF ANY PRODUCT. IN NO EVENT WILL SELLER BE LIABLE FOR ANY AMOUNT GREATER THAN THE PURCHASE PRICE OF A DEFECTIVE PRODUCT.
WARRANTY PERIOD
| Product Category | Warranty Period |
| --- | --- |
| Universal Boat Accessories | 2 Years |
| Universal Dock Accessories | 2 Years |
| Wave Armor Floating Docks | 10 Years |
| Dock Anchoring Kits | 2 Years |
| Dock Connection Kits | 2 Years |
| Dock Accessories | 2 Years |
| PWC Ports | 8 Years |
| Boat Ports | 8 Years |
| PWC Port Accessories | 2 Years |
| Oasis Accessories | 2 Years |
| Island Swim Raft | 3 Years |
| Island Accessories | 2 Years |
| Kayaks | 2 Years |
| Kayak Accessories | 2 Years |
NOTE:
Warranties and returns will not be honored without original receipt of purchase and images of the damaged or defective product. Warranties do not apply to floor or display models, out-of- box models, and close-out or discontinued items.
Warranty Instructions
RMA Authorization is required for any return for any reason. RMA number should be clearly marked and legibly printed on the top or side of the return packaging (i.e. RMA #123456). To procure an authorized RMA claim number click the Warranty Claim Form Link below.
WARRANTY CLAIM FORM
Please fill out all boxes below [*required], or your form will not be submitted. Original sales receipt and photos of your damaged product must also be submitted [see below].