BEST IN CLASS – PWC WAVE PORTS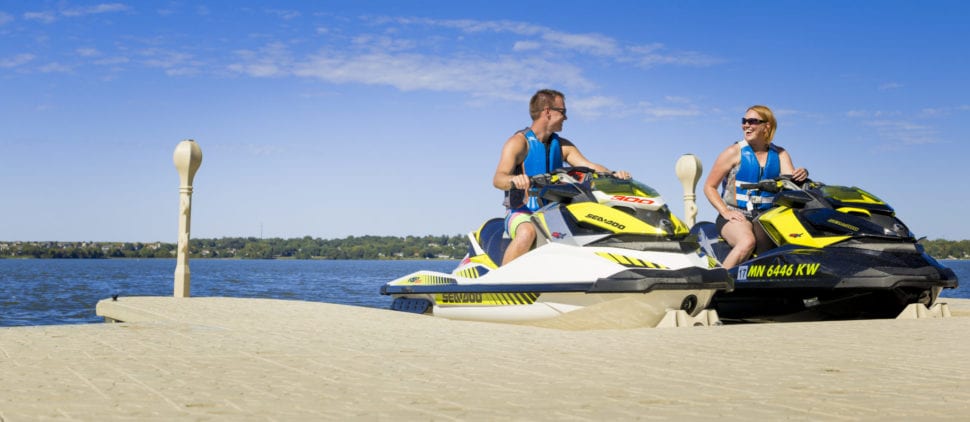 Wave Armor PWC Wave Ports Are Easy to Use, Rich with Features
Stylish and virtually unsinkable, Wave Armor PWC Wave Ports are rich with features and a breeze to drive on and off.
"With a Wave Port, you'll enjoy launching and docking your personal watercraft with little effort," says Wave Armor owner and inventor Rick Johanneck.
Featuring a Deep-V entrance, Wave Ports won't deliver a big, bone-jarring bump while driving on. "The more and bigger rollers you've got, the smoother your watercraft will glide on and off," Johanneck explains.
While lesser PWC ports have only a few small, hard rollers, Wave Armor boasts 12 to 14 big, adjustable polyurethane-overlaid nylon roller-wheels on stainless steel axles. Customizable via 20 to 32 molded-in roller-wheel slots (depending on model), Wave Ports perfectly fit any style and brand of personal watercraft, protecting their hulls from scrapes and scratches.
Personal watercrafts glide onto Wave Ports so easily that all models come standard with a bow-stop. "The rougher the water you dock in, the more necessary it becomes to secure your watercraft to your port at the bow stop," Johanneck explains. Securing a personal watercraft to a Wave Port is easy with removable bow straps and tie-down rings.
While most PWC ports and floating docks are merely functional, Wave Armor offerings feature a flagstone-style textured finish that transcends both durability and dependability, setting a new standard for lakeside living
"As stylish as Wave Ports appear top-side, it's easy to overlook what's below providing best-in-class stability and durability," Johanneck says.
Foam-filled to provide extra buoyancy and structural integrity, Wave Ports are virtually unsinkable. Constructed of durable RotoMolded polyethylene with built-in UV-Protection, they will last for years without fading in the summer sun.
Wave Armor PWC Wave Ports can stand alone, connect to a traditional fixed dock, or lock in with a Wave Armor floating-dock system. Available in a variety of widths, Wave Ports integrate seamlessly into a wide range of modular Wave Armor floating-dock sections, which can be assembled into multiple configurations to custom-fit any waterfront environment.
Wave Ports come now come in five models –the new EVO5, EVO6, EVO Sport and the SLX5 and SLX6. The EVO5, which weighs 300 pounds, can handle as much as 1,700 pounds. It measures 14.4 feet by 59.5 inches and features 14 roller wheels to make easy work of docking and launching. Weighing in at 340 pounds, the EVO6 can accommodate personal watercrafts weighing as much as 2,200 pounds. It measures 14.4 feet by 72 inches. It too features 14 roller wheels.
EVO Sport Wave Ports measure 11 feet by 58 inches. Weighing in at 180 pounds, they can accommodate lighter personal watercrafts up to 900 pounds.  SLX6 Wave Ports measure 12 feet, 8 inches by 6 feet. Weighing in at 321 pounds, they can accommodate watercraft as heavy as 2,000 pounds. SLX5 models are 5-feet wide by 12 feet, 8 inches long. They weigh 286 pounds and can handle 1,500 pounds. SLX6, SLX5 and EVO Sport Wave Ports all have 12 roller wheels.
---
---